What are the average Calgary web design prices in 2023? In this article, we provide some pricing examples and considerations.
If you have any questions or need a detailed quote, please contact us.
How much does a website cost in Calgary?
We are often asked to give a ballpark figure regarding how much a project will cost. While this is a very reasonable request, the answer is that it truly depends.
Hint: keep reading as there are additional resources below.
In this article, we talk about Calgary web design prices and what you can expect to pay in Calgary, Alberta.
Unique requirements which impact web design pricing
Every project and engagement is a little bit different. Each client has different needs and requirements.
Here are a few examples that might impact the cost and complexity of the project:
Does your business require a general information website with only a few pages? This is fairly inexpensive and easy to set up.
Do you require blogging functionality and the ability to update your own content? The complexity of these types of web design projects increases slightly and so does the effort and cost.
Are you planning on selling products on your website and need an e-commerce solution? For these projects, we typically recommend WordPress + WooCommerce or the Shopify platform. This will increase the complexity and the cost of the project even further.
Are you looking for SEO services that can boost your traffic but also involves more work and can impact Calgary web design prices?
Additional resources
Making the decision regarding what your current business needs are and what they will be in the future is tough to make.
For example, choosing the static informational website option (#1) may tie your hands and force you to do a complete redesign in the future.
Providing a ballpark figure is hard for agencies because each project is unique, but we hope that some of the resources in this article can help guide you in the right direction.
This article from Folyo from 2020 (in USD) is very much in line with the Calgary web design prices: Keep in mind that these prices might have increased (from 10-20%) since 2020 due to inflation.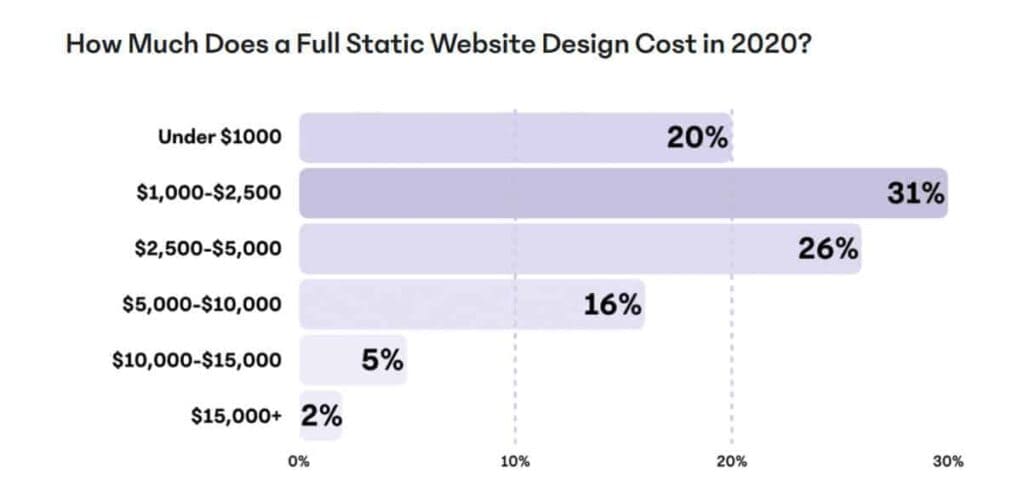 According to this chart, you can expect to pay between $1,500 and $6,000 CAD for a new website. Some more complex website projects (that involve e-commerce functionality or SEO) can cost much more than $6,000 as well.
Pricing Disclaimer
The pricing in the Folyo article was derived by surveying over 209 freelance designers. This article distinguishes between a simple landing page or product versus a full-blown website. There is also a disclaimer at the beginning of the article, The disclaimer mentions that these prices don't include any coding and that there is a lot of variability in cost, which is a fair statement.
The Folyo article can give clients a good idea and a ballpark figure of how much you should be budgeting for a web design project in Calgary.
At Clio Websites, we try to stay competitive with our pricing so if you would like to get a free estimate, reach out to us so that we can discuss your project. We also do free website evaluations, that can help you with the next steps and all kinds of web design jobs.
How much do web designers charge in Canada?
This depends on the size and complexity of the project.
A typical website in Canada costs $3,000 or more at a full-service agency. If you are on a budget, you can get a better deal from smaller companies or web developers that are working on a part-time basis.
How many hours does it take to design a website?
A website design project can take anywhere from a few days to hundreds or even thousands of hours, depending on the complexity of the project.
For example, a simple brochure or landing page website can be created within a few hours (2 – 3 days of effort). Larger websites with more complex functionality, like e-commerce, will take significantly more time to design and implement.
At Clio, we are usually able to launch a website anywhere from 2 to 4 weeks once we have all of the content and client requirements.
How much does a 5 page website cost?
A simple 5 page website costs anywhere from $3,500 to $5,000 depending on the functionality.
An average small business website usually contains between 5 and 10 pages. Although this doesn't sound like a lot of work, there is a lot of effort spent initially planning out the website structure, developing the initial design, and programming the website functionality.
The complexity of the project decreases slightly for websites with more pages if the design components can be reused. This range in pricing also depends on other services and functionality that the website might require, like integrations, content management system functionality, forms, and SEO features.
What is the difference between a web developer and a web designer?
Believe it or not, web developers and web designers are totally different roles.
When people think of programmers, web developers are usually who they are picturing. These individuals are focused on the technical aspects of a website. While a web designer might bring the vision and some of the more user-friendly elements, web developers are the professionals who actually make the final product possible. They do this by implementing what the designer created using code.
A web designer is an individual who is focused entirely on the layout of the website and its effectiveness and user experience. These individuals focus on the aesthetic details of your brand in order to guarantee that your audience has a satisfactory experience when interacting with the website.
Marketing agencies typically have both of these roles on their teams in order to execute the full project to meet client requirements.
Calgary Web Design Prices – Next Steps
We hope that this article gives you a better idea about Calgary web design prices. If you have any questions or want to learn more about Clio, don't hesitate to reach out to us. We offer flexible payment plans so the upfront cost should not prohibit you from getting started with your website design project.
What sets Clio apart from the competition is that we:
are an industry leading Calgary company with significant WordPress expertise
have very high customer satisfaction (5-star google reviews) and retention rates (over 98%),
spend the time to really understand your brand, your business needs, and requirements,
pride ourselves on the quality of service we provide to each and every client,
are responsive and won't leave you hanging for days when you need support the most,
receive glowing reviews from our clients which you can see in our reviews,
focus on results and maximizing your investment,
put a personal touch to each project to distinguish you from your competition.
Before you commit to your next web project, make sure to use this Calgary Website Cost Calculator to get an accurate estimate tailored to your specific needs.
FAQs
How much do web designers typically charge?
If you are looking to hire a local Calgary web designers, you can expect to pay anywhere from $40-$100/hour. Agencies charge up to $150/hour.
How much can I expect to pay for a website in Calgary in 2023?
You can expect to pay anywhere from $3,500 and up for a new website. Projects with e-commerce functionality or SEO services cost more. Lower pricing is available from offshore companies but the results may vary.
How much do web developers charge per month?
This depends on the size and complexity of the website, as well as the services a web developer provides. For simple maintenance and website updates, you can expect to pay between $50/month or more. If you want to learn more, check out our maintenance plans.
How much does it cost to pay someone to design a website?
It really depends on a number of factors such as the size and complexity of the website and the company. If you are using an agency, you can expect to pay anywhere from $3,500 and up. If you are using an independent developer or an offshore company you can get a website built for as little as $1,500.